Liz and I go to the Northeast
---

At 3:30am I woke up and we got in my little red '85 Ford Escort
and drove out into the night.  I was determined to make it as far as I
could that day and by 11pm that night we spent the night in Marion,
Virginia.  We sped the whole way;  I was trying to keep it between 80
and 90 mph,  only stopping to eat at the McDonalds in downtown Dallas
for breakfast and a Shoneys just west of the Mississippi river near
Memphis.

We also hit rush hour traffic in Nashville,  Tennessee.


The second day we drove for about 4 hours or so to get to Washington D.C.
This picture (below) is a first-class view of the Virginian country-side
from my little red '85 Ford Escort.



We planned on spending the rest of the day touring the monuments and
stuff.  I wanted to first find a good place to eat,  so while we were waiting
on the oil-change for my car we picked up a local Washingtonian (or something)
magazine which indicated some of the best deals to eat at - I was trying
to find some good northeast seafood type restaurants but was dissappointed
to find that almost all of the restaurants were Indian,  Chinese,  or
otherwise extremely foreign.  But some guy helped us and recommended a
good place (Phillips on Maine Street).  After eating we went to go see
the famous buildings and monuments.


It was a lot of walking.



That evening we left to go North though Baltimore and spent the
night at a Knights Inn in the northern part of Maryland along I-95.  The
next morning (Saturday morning) we drove into Princeton, New Jersey to
spend the rest of the day visiting my Uncle Dossier and his wife Jane.


As you can see Princeton is very beautiful and so is the University there.

| | |
| --- | --- |
| | |
| | |
| --- | --- |
| | |

We spent that night in their guest bedroom in the Colonial-style house.

The next day we left late-morning for the one and a half hour
drive to New York City - although it only seemed to take an hour or so.
Driving though the whole Northeast was not what I expected:  I expected
the whole Northeast to be like one big solid city,  but everywhere seemed
so green and rural.  It was hard to believe that we were just 20 miles or
so outside of the country's biggest city - New York City.  And when I saw
the outline of some of the famous buildings - the World Trade Centers, the
Empire State building, etc. - it was sort-of unreal.  My recurring feeling
throughout the whole trip was that the cities were really nothing compared
to the country in which they sit on,  and that these big cities are really
not as big and forbidding and harsh as I always felt like I was lead to
believe - it really is a small world after all.

But anyway we took the Lincoln tunnel onto Manhattan Island,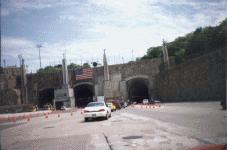 and once we drove up onto Manhattan Island everything was different - like
we were really in New York:  the buildings were very tall,  very huge,  and
they all seemed relatively dark and old compared to the buildings I'm used
to seeing in Texas.  Looking down the street meant looking down a vertical
slit of the sky between the buildings.


The first place we were planning on going is the Museum of Modern Art,
which I always wanted to see and seemed like a good thing to do.  So we
parked along Central Park,  which is when we got these pictures.


We first went to a cafe to have brunch,  then we went to the Museum,
which had a Picasso exhibit that I had to see.



The food prices in New York are still fairly reasonable,  but every-
thing else is fairly expensive.  We must have spent over $20 on toll-roads
alone for the whole trip.  We spent $61 for two tours and the accompanying
book for the Picasso exhibit.  The New York subway costed $1.50 per person
one-way,  and it sucked anyway.

After the museum we took the subway to 8th street,  where we walked
about 30 blocks (for almost a whole hour) to South Ferry.  On the way we
passed by the World-Trade Centers.


I wanted to take the ferry to Liberty Island and see the Statue of Liberty,
but by the time we got there it was too late for everything except the
Stratin Island ferry.  We took that and got these pictures of the city and
the Statue of Liberty.


We took the ferry and the subway back to the car,
and then drove down Broadway to find a place to eat dinner.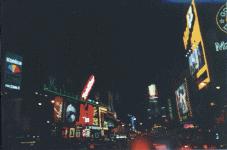 We ended up eating at the Olive Garden on Broadway,  where I could
see the latest stock prices flying across an electric banner outside
the window we sat next to.

There were several things about New York that I remember:  driving
my little red Ford Escort in the middle of a dozen or so New York taxis,
a woman who was asking for food on the subway with only Skittles to eat
(when we didn't give her money instead because we didn't have food she
told us to go to hell),  the inner-city kids and the graffiti,  the steam
coming from the man-hole covers,  the French-speaking tourists,  the
totally space-compacted stores on the side of the road,  the small pieces
of glass in the dirt between the rocks in Central Park (sort of making the
park seem superficial in a way),  the interesting buildings in which it
seemed that each one was from a different decade in the history of the
United States,  and the fact that the size of Manhattan Island is SO much
bigger when trying to traverse it on foot.

After dinner we drove a little around Brooklyn and then went back to my
Uncle's house in Princeton.  

The next afternoon at 12:54 Eastern time we left back for Austin,
Texas.  I drove like a bat out of hell the whole way,  getting two speeding
tickets and a blowout.  The first speeding ticket was in Virginia where it
was illegal to have my radar-detector,  then I had a blowout in Nashville,
Tennessee,  where I spent over an hour and a half trying to find a full-size
tire to drive back on (needless to say I couldn't find a place at 1:30am
that would sell me one,  so I ended up buying another spare tire from a
Wall-mart employee for my car in case my Doughnut-spare blew out.  Luckily
I drove back the whole way on that tire going over 80 mph without another
blowout.  It was also raining the whole way back.  BUT I made it back by
1:32 Central to my apartment in Northwest Austin travelling a total of
1670.3 miles in less than 22.5 hours actual driving time.  It was straight
though and one HELL of a trip back!
Here's my car back at my apartment parking lot with the spare tire on the
front-right wheel.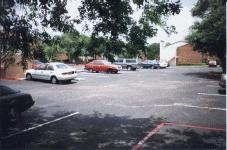 - Charlton Harrison

---
Back to my Travel Page